Podcasts Part TWO! I get asked a LOT where I find my podcasts, so I figured, since I've discovered quite a few new series over the past few months, why not put a second list together for you all! My first Podcasts list was so fun to write, and went down a storm with you guys, and those I included in it are still favourites of mine, which I tune into regularly. However, in the past 6 months, a few of my role models in the wellness industry have branched out into the podcast scene, as well as some new faces I've come across, and their content is fresh, exciting and so relevant to the healthy lifestyle message I share on my blog. I hope you enjoy this content as much as I do! All of those I've mentioned below are free to download too. I genuinely LOVE podcasts guys, as you'll know from following me here or on social media – the main reason being that I get to LEARN while doing pretty much anything, whether that's simple going from A to B, or a long walk, or cooking at home – I can switch off and open my mind at the same time. So, let's get to my list!
The Empowered Body Podcast
The Empowered Body podcast is a recent happy discovery of mine. Hosted by Adam Willis, strength and conditioning coach, founder of Lean Body Performance and an all round SOUND guy, this podcast features interviews with some of my favourites in the health and fitness scene – Hazel Wallace (The Food Medic), Shona Vertue and Alice Liveing to name but a few. The interviews Adam hosts cover a wide range of topics and issues in the areas of training, nutrition and diet, mindset and overall well-being, and I've found it really helpful from an interest and education point of view. Happily, I've found the content has really resonated with me in terms of where my own head is it these days with getting better at balancing training and rest. Adam keeps it real, says it like it is and isn't afraid to share opinions, but in a light-hearted way. It's fun to listen to but you also find yourself noting little bits of advice from Adam and the interviewees – I'm tuning in every weekend for the latest chat and knowledge bombs!
Feel Better, Live More
Oh, gosh, where to begin with this one. Any of you who follow me on this blog or on Instagram will know I'm a massive fan of Dr. Ranjan Chatterjee, doctor, lifestyle medicine advocate, and author of the Four Pillar Plan book. So when I found out that he was starting a podcast too, I literally ran to iTunes to download the first episode! I cannot tell you how genius I think this podcast is. I've been lucky enough to meet Dr. Chatterjee a few times now, and each time I'm amazed by how kind, genuine and passionate he is about lifestyle and health – it mirrors my vibes exactly! In his podcast, he interviews fellow doctors and healthcare professionals on those key pillars of health – movement, nutrition, stress and sleep, as well as more specific topics like hormonal health, gut health, and childhood obesity.
The Doctor's Kitchen
I'm a big fan of Dr. Rupy Aujla, otherwise known for his 'The Doctor's Kitchen' blog, social media and Youtube Channel, as well as cookbook! Rupy, who I've met in person also, is absolutely lovely, and like Dr. Chatterjee, very passionate about the power of food as medicine in particular, as well as the area of culinary medicine. His podcast is a lovely blend of interviews discussing food principles and habits, such as plant-based eating and mindful eating. The conversations are fun, light and interesting, giving you accessible science translated into habits you can adopt for your day to day eating!
Talking Tastebuds
Talking Tastebuds has been going down a storm both here and in the U.K. particularly over the past 6 months – I've been eagerly awaiting each new episode! Venetia Falconer, the host, is a blogger, TV presenter and self-confessed foodie – and fittingly, given the name, food forms the basis for the conversations with interviewees in her podcast. It's such a cosy listen, more like a chat with a wide variety of people in the wellness industry (such as Zanna Van Djik, the Helmsley sisters, chef Tom Kerridge and geneticist Dr. Giles Yeo, to name but a few!) over a cuppa tea, than a hardcore interview, and yet she gets right into topics like obesity, intermittent fasting and Aryuveda. Literally, food for thought.
Fit & Fearless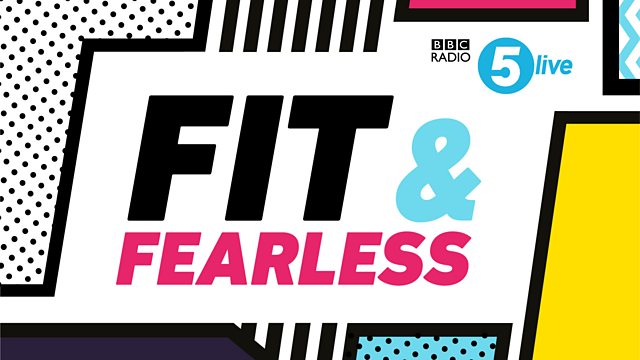 What a name, and what a podcast. Fit and Fearless is the pod from The Girl Gains, a female empowerment brand and movement created by #girlboss trio made up of Zanna Van Djik, Tally Rye and Victoria Niamh, three fitness/food bloggers I've met and been a fan of for a long time. The F&F podcast has been so well-received, and is found on the BBC Radio 5 Live channel on iTunes. It addresses big topics with experts that are both prevalent and so important to address particularly for female well-being (but also male!) – body confidence, disordered eating, the benefits of all styles of training (from cardio to strength training to yoga) and pre- and post-natal fitness. It's a laugh out loud listen, and I know this first series has been fantastic enough to warrant a second – if not I'll be writing a strongly-worded letter to iTunes!
Fearne Cotton – Happy Place 
Most of you will of course have heard of Fearne Cotton, so I doubt I need to explain who she is! I've been watching Fearne on TV since I was a kiddo (Top of the Pops anyone?!), but her Podcast is very new to me, and a total breath of fresh air. She interviews celebrities from all backgrounds and industries on life, love, loss and everything in between, really getting down to the nitty gritty of what makes them tick, and most importantly, where and how they find their happiness. I've listened to episodes with Dawn French, Stephen Fry, Tom Daley, and my favourite to date, Lena Headey. The conversations are insightful, honest, funny, and above all, inspiring. There's something very comforting about this podcast – trust me, check it out for yourself.
The Whey Box Podcast 
The Whey Box Podcast is a bright, fun, laugh out loud listen, hosted by Tally Rye (see Girl Gains above if you haven't heard of her, she's fab!) and Ben Thoy, one of the founders of the protein powder company Whey Box. The premise of the podcast is interviews with well-known figures in the UK health and wellness industry, from fitness to food to a little bit in between! It's funny, light-hearted, and really digs into the story behind the interviewees. I've enjoyed every episode to date! I have yet to try the Whey Box protein but I've heard veerrryyy good things about their flavour range – I'll take a lifetime supply of gingerbread please guys if you're reading (and yes, I'm sort of kidding…) !
Lewis Howes – The School of Greatness
I'm not really sure where to begin with Lewis Howes's career credentials – let's round it up by saying he's a former professional football player, world record holder, author and entrepreneur, and engaging host of the School of Greatness podcast. This one is my most recent discovery just before I travelled to Venice a few weeks ago, and I'm a big fan. The premise of the podcast is interesting – interviews with big names and celebrities in the arenas of business, wellness and sport to 'find out what makes great people great', in order to inspire us as listeners to achieve success in our own lives. He has MANY episodes, and I'm loving picking and choosing from the extensive archive. The content is varied, inspiring and encourages you to open your mind – definitely worth a few downloads.
And voila! I hope you guys enjoy these podcasts if you do check them out – and of course I would love to know your favourites too! I'm always on the hunt for new podcasts to listen to, and one of my most asked questions is about the pods I listen to, so a Part 2 Podcast post was definitely warranted! As always, leave a comment, DM me, email, whatever way you wanna get in touch with your vibes and thoughts on this post – I'm @theirishbalance on Instagram/Twitter/Facebook!
Ciara 🙂 x