Oh HEY. This photo is me in one of my favourite places – the egg chairs at Nut Butter, a cheeky little Dublin cafe! I LOVE egg chairs. Anyway. This little article is one that was requested on my Instagram stories recently when I asked you guys what sort of content you would like to see more of on my blog. The requests were 'tips for medical students to stay healthy' 'tips for how to stay positive' and 'how to schedule and plan your weeks' most specifically – so I decided that given the similarities in my answer to both, I would combine them into a blog post talking about how I plan and structure my weeks, because my weekly plan is also about achieving the goals I've set while maintaining the healthy lifestyle I see as my day to day now. It isn't easy, we all know that. Life gets in the way of many things – but we can plan ahead to give ourselves our best shot at feeling and living our best selves each week! I hope you find this piece helpful – as always I would love your feedback, via comments, messages on Instagram/Twitter/Facebook – go for it! So, let's get to my top tips for nailing your week – I've given you my essential four, and I like to think of the last one as the real take home message.
Write It Down
My week always starts with a plan. That plan is usually somewhere forming in my brain on a Sunday, but ultimately, at some stage on a Sunday evening I will be writing it down into my diary. What are my work hours this week? What on call shifts do I have? I jot them in, mark the days, and figure out life around them. You can do the same for college or placement hours. Once you've got your 'base', build your week around it. Exercise, for example. When do you prefer to train – morning, afternoon, evening? Have a look at which days work best for you, and schedule that workout in. It's a date with YOURSELF, a promise you've made to be your best self. Well done for that! Or if you play team sports, or train with friends, pencil in your sessions, and be proud that it's a key part of your week. My point is, if you're someone who finds it hard to stay 'on track' during the week, then making a written plan you can visualise everyday and be accountable for is a great place to start for positive change.
Meal Prep
This is gonna sound boastful, so excuse me for saying it, but I like to think of myself as a bit of a meal prep princess. Actually, let's say meal prep queen – that's more #girlboss right? And yes – YOU can be too. One of the most frequently asked questions I get is how I maintain a 'healthy diet' while working, training, blogging, and just generally living. A big part of it is the idea of meal preparation. It seems like a massive chore to many, but trust me, that perception is literally a mindset. One we can change. Every Sunday, if I'm not on call, I pick a recipe. Either a recipe I'll be creating for the blog, or one from fellow food bloggers or websites like BBC Good Food. I pick one that excites me, depending on which cuisine I'm feeling like that week. I take an hour (sometimes two, it's worth it!) out of my Sunday afternoon/evening, and I cook up either a big balanced salad, or a 'one-pot wonder' style dish (dahls, curries, stews, even shepherd's pies or lasagnas – all my best friends). I meal prep my work lunches, so I pop the food into tupperwares, and that's it done! Sometime, I'll prep a couple of breakfast smoothies, or Overnight Oats, particularly if I have early starts at work.
My take home message here is this. Meal prep can be a wonderful way to try new recipes, and it leaves you with a fridge or freezer stocked with wholesome meals for you to grab on the go. If a big batch cook isn't your thing, why not try making a double portion of your dinner? Save half, and that's lunch the next day. Finally, make your freezer your best friend – use up that space to store tupperwares, snack bars, even frozen bananas for creamier smoothies – it's just another way to make a busy week easier for yourself.
Make Time For YOU Time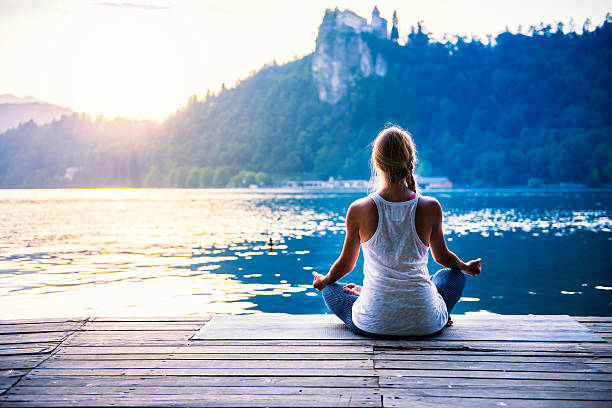 You know that epic schedule you've made for the week? Take a second look. So you've got the work/college commitments in there, your training, perfect. Now ask yourself this. Is there some time in there for YOU? I don't mean your morning run, even if it is a stress buster for you. I'm talking about wind down time, time for your body and mind to take a break from this mad little world we live in. Time to switch off, and let any stress just flow away. That time for you is really precious in your week, and it's probably the most neglected. It can be many things – a walk in silence, or with a Podcast, a bath, brief meditation, a yoga class, reading, a movie, or a relaxed social occasion like meeting a friend for dinner or coffee. It will be different for everyone. For me, switching off comes in the form of ten minutes of nightly meditation (I use the Calm app), regular walks (with and without Podcasts), yoga, and time with friends and family. I used to be terrible at prioritising it but now? It's non-negiotiable.
Allow for Life to Happen – And Smile
Despite the very best of intentions, none of us are perfect, and we should embrace and be proud of that. One of my favourite expressions is this – 'Life happens.' Saying it comes with a release, a realisation that we genuinely cannot control everything that occurs around us, in an hour, a day or a well-planned week. So when the proverbial shizz hits the fan mid-week, work runs late, you miss the bus, the gym is closed, it's raining, you're home late and your housemate ate your meal-prepped dinner (okay, in fairness, the likelihood of all that happening at once is slim!) – just breath. Deepen that inhale, and lengthen that exhale. Repeat. And then laugh at life being life, and look forward to the next day. Because I like to believe that no matter how grey the sky looks, there is a silver lining to be found somewhere – you just have to be looking for it.
Ciara 🙂 x